A One-Day Transformative Workshop To Help Wild + Creative Souls
SMASH THE BROKEN RECORD

Undermining Your Confidence, Magick + Joy
So You Can Choose You, Trust You, Believe in You, And Actually Create The Life And Relationships That Fulfill Your Deepest Dreams
The magick goes down Saturday, May 20th.
It's time to defy the voices pretending to keep you safe by keeping you small… including your own.
You and I were born to magick, my friend.
Gifted, glorious, extraordinary creatures imbued with otherworldly knowledge, overflowing with creation, and designed to shine like the mf sun!!!
And yet so many of us feel lost… alone… afraid to be our authentic selves and embody our innate power.
But it's not our fault. Whether via our families, societies, schools, or religions, our lights were extinguished by a world that would rather judge us than love us and silence our Truth in favor of its "norms".
We were taught to fear ourselves and our power, and so we forgot how to:
…Trust us
…Love us
…Believe in us
…And tap into the magick already inside us
But an awakening is stirring, calling us to abandon the worn paths of broken rules and toxic culture and return to the wild to which we belong.
Let me say that again…
WE BELONG…
✨ To us
✨ To magick
✨ Together
So while the rest of the world chases a salvation that demands they trust every voice but their own, I'm taking you on a different journey.
One that leads right to the center of your soul so you can see the REAL you, embody the magick that resides there, and revel in the freedom that comes from dancing to the rhythm of your own dreams.
Because you deserve to be free.
Through this transformative workshop, I'll help you reclaim your:
VISION: How to identify the direction and beliefs that will empower who you are + who you want to become
CONVICTION: How to discover what your heart + soul already know to be true about you, even on your darkest days
LOVE: How to leverage your soul gifts to overcome the limitations crippling your muchness + magick
GRACE: How to actually embrace (+ transmogrify!) the mistakes, failures, and fear feeding your resistance
PERMISSION: How to rewrite your unseen rules, requirements + expectations into powerful programs for success
We're gonna dive deep into doubt, fear, resistance and wounds. But we're also going to awaken your powers of soul, magick, intuition and creation.
You'll walk away with:

The power to see beyond the worn-out cycles blocking your way


The power to trust your intuition and act upon its messages

The power to believe in yourself, your choices, your ability, and more

The power to hold through the unfolding of creation + transformation The power to choose the best next step when it all seems to fall apart
WARNING: This ain't yo mama's "keep your elbows off the table" workshop.
It's a Gandalf-facing-the-Balrog, you-shall-not-pass quest for transformation where demons are faced + fears are overcome.
Choose Your Adventure
(For less than the cost of 1 therapy session or a night out on the town…)
MAY
Date: Saturday, MAY 20, 2023
Time: 9am to 1pm PT
Location: Zoom
$97
*MagicalAF requires that you attend live. Replays are NOT available.
What's included:
→ FULL day of instruction
→ PDF guides (so you walk away with a workbook full of your breakthroughs and insights!)
→ Hands-on exercises to help you experience the shifts (not just talk about them)
→ Q&A
→ PLUS, I'll show you how to integrate all of these things into a powerful ritual that will empower + transform.
YOU, my magical + mystical creatrix, are worth it!
The Word on the Street
(About MAF & Working with Deb)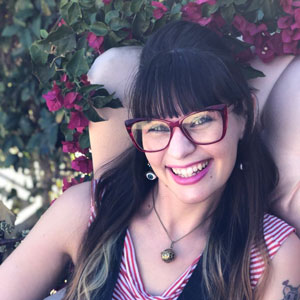 I found one person in particular I didn't expect to find…myself!
"I can't even begin to express what I walked away with…but I will try. Not only was I walking away with a new support group, a new online adventure on how to teach my art sessions, but I also walked away with a stronger me! I literally healed some deep trauma wounds and set new boundaries that led me to some HUGE FOREVER CHANGING CHOICES. I walked away with the Holla I was too scared to be; and she was in charge. I was able to love myself again. That is something I feel is priceless!"
~Holla Watson, Therapeutic Artist and Creator
Deb appeared out of the interwebs like the guiding light I had been seeking for years.
"I loved getting to work with someone who is so honest, raw and unapologetic. Someone who overcame so much pain and is thriving and is showing others how we can all thrive in our own unique way. Working with Deb opened me up realize that the things that had fallen apart in my life were unfortunate events that happened to me but did not define me or reflect my worth, and had no bearing on my future."
~Ekaterina Quiñones, Coach
Dr. Deb exudes an energetic authenticity that you either love or fear.
"Her raw and uncensored approach to facing the obstacles causing our blocks is unique and effective. After attending Magical AF, I have been able to authentically write from my heart and deliver a eulogy for an estranged ex-fiancé, introduce an indie documentary film to a sold out theater filled with hundreds of esteemed filmmakers, and am in development of a podcast featuring art, music, film, food, and history in the Filipinx diaspora. If you're on the fence about joining MAF, make the decision to step out of your own way, get out of your comfort zone, and experience the acceptance of your pure authentic self.
~Ateh Ubeh, Writer & Filmmaker
What I love most about Magical AF is the reclaiming of the parts of me that I thought lost.
"Pulling those pieces up from the depths is a profoundly liberating and empowering experience. I have found my inner courage, my boss-b energy, and the freedom to give myself permission to explore myself and my gifts. Gaining these things has made me happier overall. It has also given me the ability to make very difficult and life-altering decisions, be more present and assertive in my career and relationships, and I have the tools to keep evolving and growing towards my dreams and goals."
~Andrea Coble, Writer & Nurse
"I love that even in a one-day workshop, we get down to work and dig deep into ourselves. Our fears, hopes, dreams, and things that make us stuck. All of it. I have learned so much about who I am and what I can do. And I walked away with a great set of tools to work through any mental blocks."
~Michelle Kukurich, The Awkward Storyteller & Video Editor
"Debbie is truly MagicalAF. My confidence in myself and my skills as a web and graphic designer have increased exponentially. If you're thinking about investing in working with Deb – get off that damn fence and do it. YOU are worth it. The transformation, if you put the work in, will be amazing."
~Jackie Barker, Web & Graphic Designer
"I didn't even know what to expect and was hesitant, thinking "here's one more thing that probably won't make any real change for me". But this really IS different. It was actually much more effective [than therapy] in me being healthier and happier. If you are having trouble choosing you, know that you ARE worth it."
~S.P., USMC Veteran
Can I get the replay?
No. Because of the nature of the work we do together, MagicalAF is designed for live participation only. Please email our team via hello@debbieburns.me if you can't attend the live workshop you registered for or if you're interested in attending a future event.
Can I gift or transfer my ticket to another person?
Yeppers! Simply forward your invoice showing proof of purchase to our team via hello@debbieburns.me with the name and email address of the person you want to give your ticket to and we will make that exchange. Once moved, you can no longer claim that ticket. (For example, if your person doesn't attend the registered event, you cannot ask for the ticket to be moved to a different person.)
What if something happens and I can't make it live?
We got you! Please email our team via hello@debbieburns.me as soon as possible and we will move your registration to a future MAF event.
Master Soul Guide + Mother of Dragons.
I teach Soul Magick to wild + creative souls, leading you through uncertainty to COURAGEOUS ACCEPTANCE of your most authentic self & BOLD EXPANSION of your magick + joy!
I'm here to help you love yourself so effing hard you can choose you, trust you, and believe in you NO MATTER WHAT!
Think of me as a mirror reflecting back your honest-to-grandma truths, blocks, and path forward, complete with all the "whats and hows" that will help you break free of the b.s. suffocating your light.
I can see your soul (for realsies).
And having traversed my own dark nights of the soul (from trauma + PTSD to the rollercoaster of creative + soul-driven entrepreneurship), I understand the fears, doubts, setbacks, and resistance we experience when we move to stand in our fullest power without holding back or hiding.
I get it. I really, really do.
That's why I CAN'T let you back down. I can't let you play small. I can't let you believe for another nano-second that staying where it feels safe is serving your highest call.
You are the one. The right one. The beautifully imperfect one who's been called to change the world.
I believe in you.
Loves & hugs,


Are you ready to reclaim your power?
This site is not a part of the Facebook™ website or Facebook™, Inc. Additionally, this site is not endorsed by Facebook™ in any way. FACEBOOK™ is a trademark of FACEBOOK™, Inc.
DISCLAIMER: Any results stated above are my personal results and that of clients. Please understand results are not typical, I'm not implying you'll duplicate them (or do anything for that matter). The average person who buys any "how-to" information gets little to no results. I'm using these references for example purposes only. Your results will vary and depend on many factors …including but not limited to your background, experience, and work ethic. By submitting your email address on this website, you are authorizing our company to send you informational and promotional messages via email.